If you've got a cleaning problem, chances are you already have your cleaning solution on hand!  Here are a few easy homemade cleaning ideas that are likely already found in your cabinet. The following cleaning methods utilize only two ingredients: vinegar and baking soda. It's impressive how much these basic staples can clean up.
Vinegar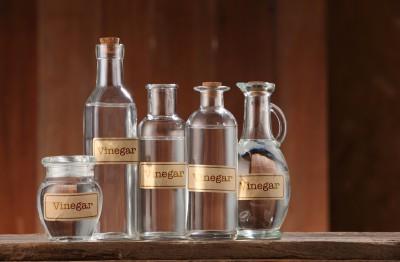 Not everyone likes the strong smell of vinegar, but when the weather is warm enough to open all the windows and really air the house out, vinegar is my number one option for cleaning. Put vinegar in a spray bottle and attack your windows inside and out to clean and leave no streaks. Use old newspapers as your rag to eliminate any residue left behind. The strong smell is a natural repellent to spiders, but if you prefer to lighten the aroma, simply add in a few drops of your favorite essential oil.
Vinegar can also be used as a rinse aid in your dishwasher. Fill a cup with vinegar and leave it on the top rack with your other dishes, then run it through a cycle. See your sparkling glasses! Vinegar can also be used to clean a funky smell out of a washing machine. Lauren Greutman has a great write up which can be viewed here. If you are expecting a winter storm, you can ice proof your car windows and door locks in advance by spraying with 2/3 cup of vinegar and 1/3 cup of water. Keep a bottle on hand!
Vinegar and Baking Soda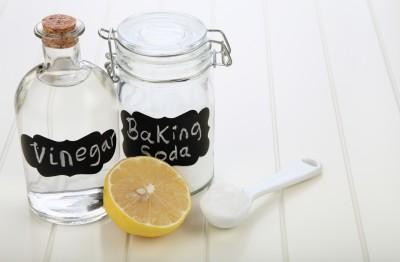 This is a classic combination. This power couple does almost everything around the house. The fizz can remove burnt on stains from your pots and pans, clean your slow cooker, and even clean pet stains off carpets. Liberally cover the stain in baking soda, pour a steady but slow stream of vinegar over it and watch the magic happen. Then, get in there and start scrubbing, because everyone needs to do their part! Lastly, use vinegar and baking soda to clean the inside of your oven. View the full tutorial here.
Carpet Freshener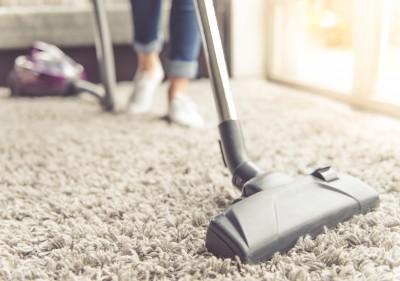 Store bought carpet fresheners are expensive, and the price can quickly add up. An easy DIY option is to mix baking soda with an essential oil or nutmeg for an inviting smell which will help deodorize any pet odors in your carpeted home. Add borax to kill any pests (think fleas for cats and dogs, and other bugs like ants that may be lurking around). Sprinkle before you leave for some errands, come home and vacuum it up! For more tips and the full recipe, see here.
Most household items can be cleaned with soap and water. When there's a little extra needed, the first place to go is always baking soda and vinegar. Chances are, they'll clean the item you're struggling with. There's a reason dear old Granny doesn't spend money on cleaning products- she knows she already has everything she needs in her cupboard!