As summer draws closer, thoughts of delicious frozen treats are becoming more frequent. Don't let the incoming heatwave slow down your dessert game! Use it as motivation to experiment and enjoy refreshing, new recipes. Here are a few ideas to help kick start your summer.
Frozen Peanut Butter Cup Pie
If chocolate and peanut butter is one of your favorite flavor combinations, this frozen pie is something you have to try. The crust can be made with three simple ingredients and the filling is made up of delicious ingredients that include cream cheese, chopped peanut butter cups and whipped topping. One of the best parts about this dessert is that it's incredibly easy to put together. You simply mix all the filling ingredients and lay it on top of the crust. After that, you freeze the pie for at least two hours and then enjoy it! Feel free to get creative with toppings. You can find this recipe here.
No Churn Ice Cream
The search for an easy, homemade ice cream recipe ends here. It requires four ingredients to assemble and you don't need any fancy equipment to churn it either! Start by putting a loaf pan in the freezer. Combine the vanilla, salt and condensed milk together. After that's done, use a hand mixer to whip up the heavy cream until it forms stiff peaks. Combine the two mixtures together and pour it into the frozen loaf pan. Continue freezing it and top it with any extras you can think of! This fool proof recipe can be found here.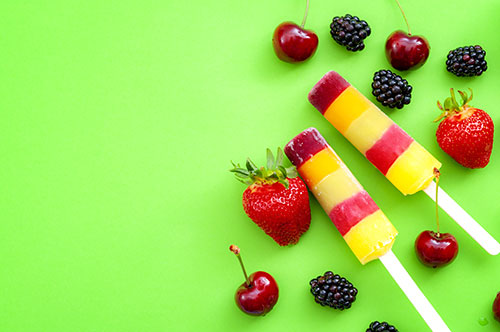 Cantaloupe Sorbet
There's a little bit of prep work involved to create this delicious dessert, but it's worth the effort! You start by creating a sugar syrup that will help sweeten the end product. After that, you'll need to peel, seed and cut the melon into cubes. Puree the cantaloupe and add the sugar syrup a little at a time. Freeze overnight and enjoy the final product! The recipe is posted here.
Dole Whip
One of the best parts about this recipe is how easy it is to make! With only four ingredients, you can be enjoying this dessert in a matter of minutes. Dump your frozen pineapple, coconut milk, vanilla ice cream and pineapple juice in a blender. Once combined, spoon the mixture into a dish to devour! Check out this recipe here.
Watermelon Popsicle
Finding the perfect, juicy watermelon is the key to an amazing popsicle. When you find it, make sure all the seeds are out and cut it into chunks. Blend it up with your choice of a variety of flavors such as lime juice or vanilla extract. For a healthier option, try some agave nectar to help sweeten it up! Pour the liquid blend in popsicle molds and add sticks. You can read the rest of the instructions and tips here.
Enjoy summer one dessert at a time. Give these incredible frozen treats a try!