If you've been watching what you put into your body, it may be time to start watching what you're putting on it too. The hygiene and beauty industry is rife with chemical-containing products that may not adhere to your clean lifestyle, if you're striving to lead one. I've compiled a list of some suspect things your hair care routine may be harboring, and some brands that offer alternatives.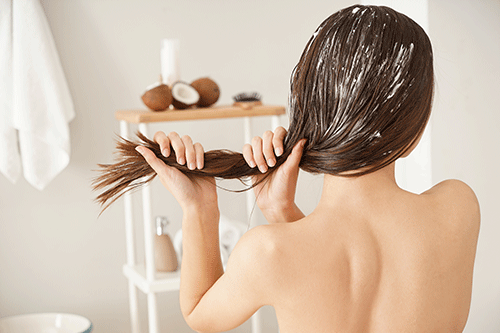 Silicone
Okay, so this particular man-made chemical isn't toxic or anything, but it will build up a coating on your strands and make your hair dull and flat. Most conditioners manufactured for decades have this ingredient, so unless the label states otherwise, your favorite conditioner probably contains it. Even if a label claims the product is silicone free, don't take their word for it. Check the ingredients for yourself, and any word that ends with "cone," such as "dimethicone," is most likely a buildup culprit. If you're hoping to ditch the silicones without dishing out a fortune, Love Beauty And Planet offers a variety of formulas that can be purchased at drug store prices. If you only like to put salon quality products in your mane, Biolage offers silicone free Hydrosource conditioner. If you need a leave in, Curls Blueberry is where it's at.
Harsh Surfactants
Sulfates are the stuff that lather is made of, but not all foams are created equal. Some of these like-named detergents, such as sodium laureth sulfate, laureth sulfate, and lauryl sulfate, can wreak major damage to your scalp and locks via stripping away the basic oils you need for everyday protection. They can also cause acne and itching. If your scalp doesn't feel clean without a soapy lather, peruse your product labels for more mild lathering agents such as cocamidopropyl betaine derived from coconut in Kinky Curly Come Clean shampoo or Aveeno Pure Renewal shampoo. If you want to totally ditch the lather all together, you can replace your traditional shampoo with conditioning wash, otherwise known as cowash. Cowash pulls double duty by cleaning and providing moisture. As I Am Dry & Itchy Scalp Care CoWash is great for anyone who suffers from dry hair and itchy scalp and needs a little tea tree freshness. Loreal Paris offers Everpure Cleansing Balm as "a full haircare regimen in one step."
Parabens
Some cosmetic products, like shampoo and conditioner, have preservatives in them made from parabens. These stabilizers are easy to spot in the ingredients, because the chemicals usually end with the word "paraben." Examples include propylparaben and butylparaben. While they inhibit the growth of bacteria and ensure a long shelf life for your product, they also may cause some harm to your body. Parabens have estrogen like effects. Celeste Robb-Nicholson, M.D.Editor in Chief, Harvard Women's Health Watch explains, "Although estrogen plays a role in breast cancer, there's no evidence that people who use paraben-containing products face an increased risk. In 2004, however, a small study found traces of parabens in breast cancer tissue, reigniting concern about these chemicals." They go on to suggest, "If you'd prefer to err on the side of caution, check natural or health food stores for products that don't contain parabens." Drugstore brands like Pantene and Suave  are even starting to offer paraben free varieties.

If you're trying to live a clean lifestyle, go ahead and check the labels on your hair care routine to make sure nothing dirty is hanging out in the bottles.