If you're hitting a wall with figuring out what to meal prep this week, power bowls are a great way to add a variety of different ingredients into one dish. They're customizable to your diet, easily pack able for lunch, and fairly easy to assemble.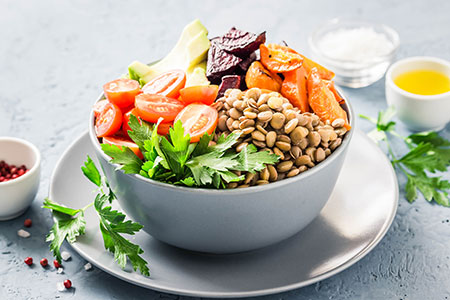 Key Ingredients
The base of any bowl is a grain or veggie noodle. Whole wheat rice, quinoa, or even a blend of different types of grains are a great foundation for your bowl. Veggie noodles are also great and easy to whip up. You can select from zucchini, carrots, and even sweet potato! If you don't have extra time to spiralize the veggies yourself, many grocery stores have pre-made containers too. After selecting a base, collect some vegetables, fruit, nuts, and legumes. While you don't have to each of these ingredients, it really helps to complete the bowl. Roasting the vegetables is a great way to make sure they hold up and nuts add great texture. Legumes also add a nice creaminess to the bowl and a different flavor dimension. Last but definitely not least, you'll need a sauce or dressing. Bottled dressing works, but you may be surprised how easy dressing is to make yourself when you look through these recipes! Tahini is a common ingredient for the dressings and adds fantastic flavor to the bowls. Good luck and hope you enjoy your bowls!
Sweet Potato Chickpea Buddha Bowl
This recipe is simple and only takes 30 minutes to make. It's loaded with four kinds of vegetables, crispy chickpeas, and a delicious maple-tahini sauce. It's also vegan, and I can guarantee you won't be missing any dairy or meat in this bowl. The ingredients are filling and flavorful.  See recipe here.
Roasted Rainbow Winter Bowl
Sometimes it can be hard to figure out what seasonal veggies to eat during the winter, but this bowl is a wonderful example that winter isn't lacking colorful veggies and healthy ingredients for your bowl. It includes roasted mushrooms, beautiful butternut squash, white beans, wild rice, avocado (of course!), vibrant pickled red cabbage, and a tahini sauce that you customize to your own liking. This bowl is a wonderful combination of fresh and comforting. See recipe here.
Chicken Enchilada Bowls
This recipe bumps up the typical Chipotle or Qdoba burrito bowl and incorporates the best parts of a chicken enchilada into a bowl. It takes 10 minutes to prep and 10 minutes to cook. This one-pot wonder can't be any easier to make. See recipe here.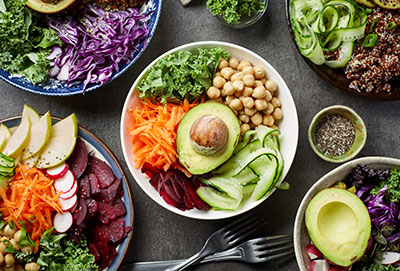 Greek Power Bowls
If you're craving a good Greek salad are even a gyro, this bowl has all the flavor and leans toward healthier too. Roasted eggplant, zucchini, bell peppers, cucumbers, olives, and feta fill this dish with undeniable Greek flavors. And, the red wine vinaigrette goes perfectly with all of the ingredients. See recipe here.
Breakfast Power Bowl
Power bowls are great for breakfast too! This recipe is Whole30 and vegetarian friendly and is a wonderful way to start the day fulfilled. Hard-boiled eggs are complemented by roasted sweet potatoes, broccoli, and kale. Once you prep this breakfast bowl, you'll be wondering why you've always been reaching for granola bars for breakfast. See recipe here.