Plant based desserts have come a long way in recent years. Increasing dietary changes including vegetarianism, gluten and dairy intolerance, and veganism have led to some wonderful developments in  the dessert world. Here are a few plant based recipes for you to try.
Sweet Potato Brownies
Don't worry about having to give up chocolate just because you're being more health conscious. This recipe is a healthier take on brownies, yet still maintains the flavors you love. It's a pretty simple to create and only requires a handful of ingredients. You'll combine the wet ingredients (sweet potatoes, nut butter and vanilla extract) and then mix the dry ones into it before baking. The instructions mention that when you take them out of the oven, they will seem a little under cooked. Despite this, they firm up nicely as they cool. This recipe can be found here.
Bliss Bites
These delicious morsels can be enjoyed with no baking involved! It's naturally sweetened with 100% maple syrup and includes other healthy ingredients such as oats, peanut butter and cocoa powder. Put cupcake liners in a muffin tin, and combine your ingredients on the stove for the base of the cookies. Pour them into the liners and refrigerate the base while you create the topping. Pour the peanut buter topping over the chocolate oat mixture and freeze them for about 20 minutes. You can find this recipe here.
Chocolate Chip Cookies
The best thing about this recipe is that it only requires six ingredients. These cookies are made with chocolate and dates so they will definitely satisfy your sweet tooth. They also include oats, and cashews so they are not only healthy, they are filling as well. You'll need a food processor to combine most of the ingredients. After that, you just need to add in your chocolate chips. Give this recipe a try by clicking  here.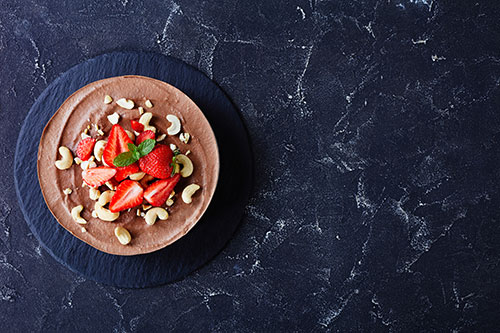 Vegan Lemon Cake
This cake has some surprise vegetables in it. The crust is made of pecans, dates and maple syrup. However, the filling of this cake includes cauliflower rice and avocado. These along with a few other ingredients help make a light lemon treat that is sure to please your pickiest eaters. There is also a yogurt based topping you can add to this dessert as well. It all comes together to create an incredible gluten-free vegan option that you should definitely try! You'll find the recipe here.
Carrot Cake Muffins
This recipe may seem a little complicated, but give it a chance before you skip over it. There are a lot of ingredients; however, most are wonderful spices including nutmeg, cloves, allspice and cinnamon. This recipe makes about ten muffins and you have the option to add raisins if you desire! You can find and create this recipe by clicking here.
You don't have to let your sweet tooth get in the way of your fitness and nutrition goals. There are healthier options available to help keep you on track.