When you're missing your favorite dish from your favorite restaurant, try making it yourself. Here are some amazing restaurant copycat recipes you can make from the comfort of your own home.
Chicken Lettuce Wraps
A PF Chang specialty, these chicken lettuce wraps are one of the most delicious items on their menu. Lucky for you, you no longer have to leave your house in order to enjoy this entree. This recipe does require some special ingredients that are not likely to be lying around your kitchen. You'll have to plan ahead if you want to make them. However, don't let that discourage you! The extra effort will be well worth it. You can find this recipe here.
Bang Bang Shrimp
A trip to Bonefish Grill without ordering some Bang Bang Shrimp is impossible. While this copycat recipe isn't exact (it's a lower calorie version), it doesn't sacrifice flavor. This version is grilled instead of fried, and to lighten up the sauce, they've used greek yogurt as the base. Cooking the actual shrimp and making the bang bang sauce both require only three ingredients each. You can't make an easier appetizer! The recipe can be found here.
Chicken Nuggets
Chick-fil-A chicken nuggets are known to draw huge crowds. Any lunchtime rush at one of their establishments will attest. If you want to save some time and money, make these delicious morsels at home. This particular recipe does require a deep fryer; however, if you're CFA obsessed, it may be worth the investment for you! This simple recipe is located here.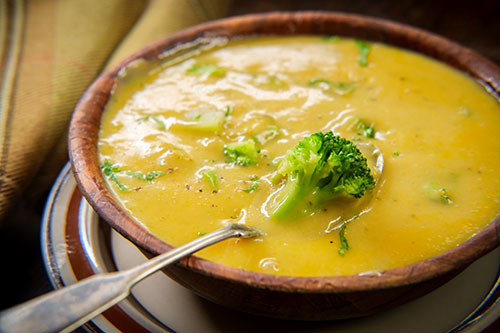 Broccoli Cheese Soup
Panera Bread is known for their delicious soups (among other things). Broccoli cheese just happens to be one of their best sellers. This copycat recipe requires only ten ingredients and most of them you probably already have on hand. If you want to get really fancy, put your soup in a bread bowl and enjoy! You can check out the recipe here.
Cheddar Bay Biscuits
Cheddar Bay Biscuits are one of Red Lobster's most popular menu items. You can actually buy a mix to make these at your local grocery store; however, aren't baked goods that are made from scratch always better? It gives you the opportunity to use the freshest ingredients possible. This recipe is incredibly easy and requires only seven ingredients. When you buy the ingredients to make these biscuits, make sure you stock up. Just like in the restaurant, one batch will not be enough. The recipe can be found here.
Freckled Lemonade
If you've fallen in love with Red Robin's freckled strawberry lemonade, you're not alone. Make this refreshing beverage at home with four simple ingredients. Frozen strawberries with syrup (melted), ice, lemonade, and fresh strawberries for garnish are all it takes to recreate this drink. It really is THAT easy! Find the recipe by clicking here.
Let nothing stop you from enjoying your favorite restaurant treats at home. Test and perfect these copycat recipes so you can indulge anytime.