With so many varieties, cheesecake is a highly appealing dessert. You can make it extra sweet, tart, fruity or full of chocolate. Because there are so many possibilities, it's easy to find a flavor you love.
Chocolate Chip Peanut Butter
This winning flavor combination is a no brainer when it comes to delicious cheesecakes. Start by crushing up oreos for the crust. The filling consists of cream cheese, peanut butter and mini chocolate chips to name a couple ingredients. This recipe also includes directions for making a chocolate ganache topping. Finish it off by adding crushed Reese's and chopped peanuts. Refrigerate overnight and enjoy the following day! The recipe can be found here.
Lemon
This tart lemon cheesecake is made on a graham cracker and almond crust. It compliments the lemon flavors beautifully to create a delicious treat. You're going to need to get your zester ready because this recipe calls for the zest of two lemons and some freshly squeezed juice. The work will be worth it for a creamy, tart final product. Refrigerate for at least eight hours and top it with some lemon curd (you can find an easy, microwave recipe here) and whipped cream to serve. All instructions and recipe notes can be found here.
Chocolate Chip Cookie Dough
To make this recipe, you'll first need to crush up some chocolate chip cookies for the crust. The actual cheesecake filling is a pretty standard combination of cream cheese, sour cream and other ingredients. The best part about this recipe is that it teaches you how to make edible cookie dough. You'll assemble your cheesecake and submerge drops of the cookie dough mixture in the pan. Bake, refrigerate and enjoy! Find this recipe by clicking here.
Mixed Berry
This cheesecake is a delicious combination of lemon mixed with strawberries, raspberries, and blueberries. The actual base is made with a traditional graham cracker crust and the filling includes some lemon zest. However, this dessert really shines when it comes to toppings. It requires the three above mentioned berries mixed with a cup of red jelly (not jam). Give this recipe a try. You will find it here.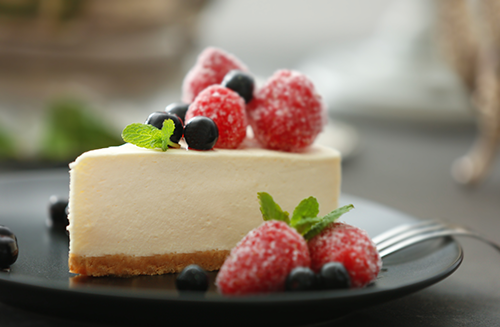 S'mores Cheesecake
This cheesecake starts with a delicious graham cracker crust. It's the perfect beginning to a s'mores cheesecake! When creating the filling, you want beat all the traditional ingredients together before manually stirring in mini marshmallows and semi sweet chocolate chips. You simply need to bake the cheesecake and sprinkle more mini marshmallows on top. Heat until they are puffed. Drizzle melted chocolate over the top and you're ready to refrigerate and enjoy at a later time. As far as cheesecakes go, this is an incredibly straightforward, low maintenance one. Give this recipe a try by clicking here.
No matter what your preferences, it's pretty easy to find a flavor you love. Pick your favorite cheesecake recipe and get baking!