How good do you feel pampered at the salon when you get your hair refreshed and all done?  When you sit in that stylist's chair, your hair is in the best hands and they are working hard to give you the best hair day every day.  When you leave the salon, you need to make sure you are protecting your investment.  It will give you more great hair days on your own and make your stylist's job easier to give you all your #hairgoals.
Listen to the Stylist's Recommendations
When you sit in their chair and discuss what you'd like to do with your hair, talking about home maintenance is an important part.  Tell them what your daily routine is and what your lifestyle is like.  If you don't have time to blow-dry your hair every morning, you'll need to settle on a cut and style that gives you the flexibility to go more natural.  Being open and honest about your lifestyle will give the stylist a better idea of recommendations for cuts and color.
Buy the Products
While it's so much easier to go to Target and buy a brand from the shelves while you pick up something for dinner and extra laundry pods, that shampoo and conditioner might not be what is best for your hair.  Hair stylists go through ongoing education on hair products, particularly shampoos and conditioners that help fix and maintain your specific hair needs.  When your stylist suggests you purchase a product they use on your hair while you sit in their chair, they are not only ensuring you have proper home care, but they are trying to give you a great hair day every day, which makes the cut and color they worked so hard on look fantastic no matter what.  Don't look at the retail in the salon as an add on extra money maker for them, look at it as part of your investment in your ongoing hair care.  Even if you start small and ask them to recommend one product to buy at a time, you'll be benefiting your hair more than you know.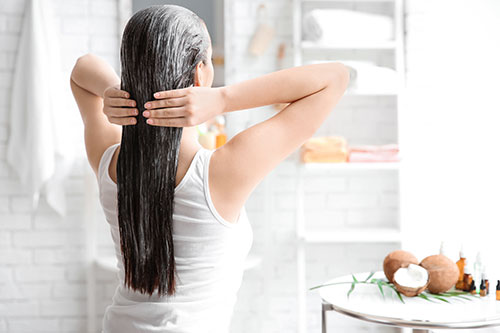 Get in a Healthy Hair Routine
After getting recommendations and knowledge from your stylist, put it to work.  Decide how often you are going to shampoo, condition and do any deep conditioning treatments and stick to the program.  Like anything else, your hair is a vital part of your appearance and you always want to look your best.  Keep up with your hair appointments for trims, cuts and color.  Nothing looks worse than split ends and faded dull color.  There are services for every person and every budget.  Being honest about those limitations with the stylist will give them a roadmap to provide a catered experience that will work best for you.
Ask Questions
Your stylist had to go through a lot of training to become licensed.  They know everything from skin diseases to hair analysis. Ask as many questions as you want.  Have them teach you techniques to style your hair at home.  If they recommend a styling product, ask them if you can work it through your hair while they watch you so they can make sure you are using it right.  Most of the time people end up hating a product, but it's because they were using it wrong in the first place.
Don't just leave your hair care up to the professionals, it's just as important for you to take charge of your own investment on a daily basis.