Frozen vegetables are a secret weapon to being successful with healthy eating. Their versatility, low price point and nutrients make them all around winners. Get creative with your frozen veggie cooking skills! Here are a few recipes you can try.
Veggie Fritters
If a vegetable fritter with avocado cream sauce sounds appealing to you, check out this recipe here. Combine frozen zucchini and frozen onion to assemble these fritters. Other delicious ingredients such as potatoes, pepper flakes and chia seeds will help make these cakes. Add the avocado cream sauce on top and you have a light, refreshing meal.
Chicken Tortilla Soup
Chicken tortilla soup is a staple during the fall/winter months. Make sure to save this recipe so you can add it into your meal rotation! It's so easy to put together and it tastes incredible. Using frozen corn and other delicious flavors like cumin, garlic and chili powder, it'll make your taste buds sing. This recipe calls for you to pour the completed soup over tortilla chips and serve with sour cream and cheese on top. Give it a try! You'll find it here.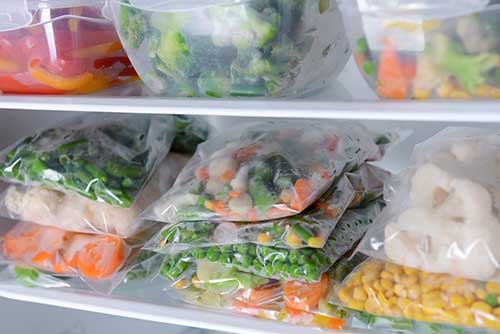 Artichoke Spinach Lasagna
If you've been on the hunt for an easy vegetable lasagna that tastes amazing, look no further! It includes fresh flavors like rosemary and can be made quickly by using pre-cut, frozen spinach. As far as lasagna goes, the assembly is pretty straightforward. Cook your noodles, saute and combine vegetables, layer your ingredients and bake. Oh, and don't forget the cheese! You will have a beautiful dish to enjoy in about 90 minutes from start to finish. Check out the recipe here.
Veggie Fried Rice
Using frozen vegetables makes this dish so easy to put together. You can have a healthy, delicious meal in a snap. An article written by Rebecca Leib for wisebread.com, "For a great Asian meal on a budget, this vegetable fried rice is simply the best! A few inexpensive specialty items like sesame oil and ginger will give the rice and veggies a great depth of flavor, and you can skip the eggs to make the dish vegan." Additionally, this recipe is a valuable one to have in your repertoire because it explains step by step the order in which you cook your ingredients in a wok. You can find this recipe here.
Chicken Pot Pie
Is there anything better than a homemade chicken pot pie? This dish may seem daunting to prepare; however, this particular recipe only requires four ingredients. It's so simple to put together using frozen vegetables, chicken, crescent rolls and cream of celery soup. Prep the ingredients according to the recipe (which can be found here) and bake. In about an hour you have a hearty comfort dish ready to enjoy.
Before you dismiss those frozen veggies in your freezer, imagine all the possibilities! There are so many delicious entrees they can become. Give them a chance and you might find yourself loving them after all!