Yogurt is a great ingredient for a lot of healthy recipes, it's sweet, tangy, and packs a big flavor.  There are so many varieties of flavors, consistencies and options, and that means endless possibilities for yumminess.  Next time you are looking for a sweet little snack, try a couple of these that will be a party in your mouth and on your taste buds.
Frozen Yogurt Bark
This quick and easy recipe has so many options depending on what you are craving.  With a few ingredients of yogurt, fruits, nuts, chocolate chips, coconut shavings or granola, you can create a customized concoction that will be your new go-to snack.  Spread yogurt out on a cookie sheet, add your toppings, mix, freeze and then break apart, it couldn't be easier to make.  Using different flavors of yogurt will keep the combinations limitless.
Source: Cake Whiz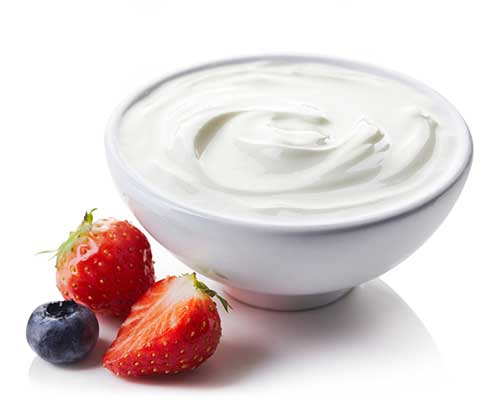 Healthy Peanut Butter Dip
Yum, anything with peanut butter will keep the crowds coming.  This recipe packs a ton of protein and is the consistency of whipped peanut butter frosting.  You can dip apple slices, graham crackers or a spoon in this magic and go to town.  This recipe only needs three ingredients to get your taste buds singing.  This would also make a great after school snacks for little ones who crave something sweet and give them a protein boost for homework assignments at the same time.
Source: Listotic
Easy Frozen Yogurt Bites
Speaking of snacks for kids both young and old, these are a crowd pleaser.  This recipe couldn't be easier, because all you need is yogurt from squeeze pouches like Go-Gurt, wax paper and a freezer.  Cut a small notch on the corner of the porch, squeeze little drops onto wax paper and freeze.  Your kids can help you out making this delicious and tasty treat.  After they are frozen, store in a freezer bag and you'll always have a snack ready to go.
Source: Eating on a Dime
Greek Yogurt French Onion Dip
That's right, you can use yogurt for a healthy twist on your favorite party dip.  Using Greek yogurt, adding made-from-scratch caramelized onions and a few spices, you'll have a healthier dip that will keep the party going.  You can serve with classic potato chips or go full-healthy with carrot sticks or other veggies.
Source: The Toasty Kitchen
Orange Creamsicle Yogurt Bites
Who doesn't love the nostalgic taste of orange creamsicle?  This two-ingredient recipe is both easy and full of flavor using vanilla yogurt and orange Jell-O.  It's a childhood dream that is full of protein and fat free.  Mix ingredients together, freeze into cupcake liners and done and done!  Top with a little whipped cream for the ultimate snack bite.
Source: Cookies and Cups
These snacks are healthy and easy to make when you are craving a little something out of the ordinary.  Whip up some of these when you need quick snacks that are guarantee to please.