It's finally time to enjoy the flavors of fall. Pumpkin season is here! In addition to your tried and true favorites, here are a few new pumpkin recipes to add to your collection.
Thai Pumpkin Curry
Thai lovers, unite! With less than ten ingredients, you can create a dish that incorporates exotic flavor with pumpkin. This combination yields a winning fall recipe. All you need to do is saute your onion, oil and curry powder in a pan. Add the pumpkin, coconut milk and broth and bring the mixture to a boil. Cook this until the pumpkin is soft and stir in spinach until it wilts. Serve the curry over basmati rice and enjoy a beautiful, colorful dinner. You can make this in around 30 minutes if you buy pre-cut pumpkin. Find the recipe by clicking here.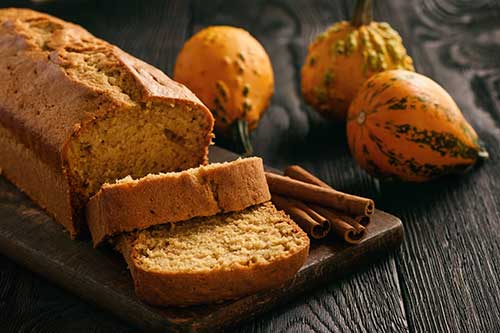 Pumpkin Pull Apart Bread
This recipe may seem a bit daunting at first glance, but don't let it scare you away from making this bread! The instructions are broken down into four parts: bread ingredients, pumpkin filling, filling topping, and the cinnamon glaze. It takes some time to create because you need to let the dough rise, but this high maintenance dish is well worth it. With fall flavors like cinnamon, nutmeg, and cloves, you'll be making this recipe over and over again. You can find it here.
Pumpkin Mac and Cheese
A fall twist on a traditional dish is a great way to mix things up. With amazing flavors like onion, garlic and nutmeg, this savory meal is so exciting. It's easy to assemble and you can even add bacon and breadcrumbs to it! There are so many reasons to love this recipe. Check it out by clicking here.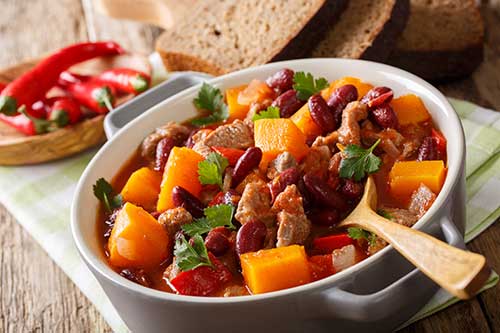 Pumpkin French Toast Casserole
Its easy to get excited about a delicious fall recipe like this one. Pumpkin french toast casserole is everything you didn't know you were missing. It's such a simple recipe to put together. Start by spraying your pan and layer the bread so it slightly overlaps. Mix your other ingredients, pour them over the top making sure the bread is saturated. Cover the dish and let it sit in your refrigerator overnight. In the morning, bake it for an hour and you're ready to enjoy a breakfast that will knock your socks off! Find the recipe here.
Pumpkin Chili
There's almost nothing better than a perfect savory pumpkin dish. This one in particular is both easy to assemble and delicious. Start with some onion, bell peppers and garlic. Saute them in some vegetable oil and add ground turkey. Combine the remaining ingredients and seasonings (including pumpkin puree). Cook and top with cheese and sour cream. This low fat meal is perfect for a brisk autumn day. Check out the recipe by clicking here.
There are so many delicious ways to incorporate pumpkin into your cooking this fall. It's a versatile ingredient that adds beautiful color and amazing flavor to any dish.