Are you hitting a breakfast slump? Cereal will always be a timeless classic, but there are days where you may feel you need more than a familiar bowl or milk and cereal for breakfast. Mornings can be chaotic and pressed for time, but there are many quick breakfast options that beat out the basic granola bar and banana. These healthy breakfast ideas are great to make ahead and grab on the go!
Baked Oatmeal
Instant oatmeal is convenient and fast but not always tasty. Many brands offer cup versions of instant oatmeal too, but I find that they still seem to fall short of fresh oatmeal. If you don't have time to stand in front of the stove and make steel cut oatmeal, baked oatmeal is a great alternative. You will instantly notice the difference and it reheats really well. Goodbye boring instant oatmeal and hello comforting oatmeal bake!
https://www.onceuponachef.com/recipes/amish-style-baked-oatmeal-with-apples-raisins-walnuts.html
https://ohsheglows.com/2014/03/19/heavenly-carrot-cake-baked-oatmeal/
Breakfast Casserole
Making a casserole may be one of the easiest dishes to execute and a breakfast casserole is no different. It's packed with great protein and fulfilling veggies. If you're craving eggs for breakfast and don't want to pull out a pan, this is the dish for you.
https://tastesbetterfromscratch.com/breakfast-casserole/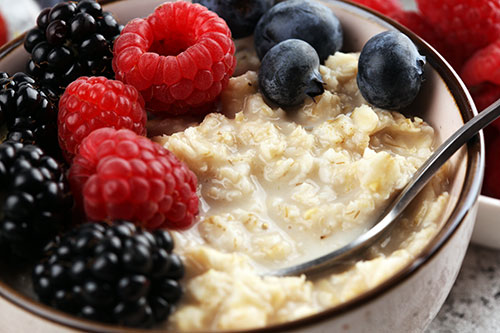 Overnight Oats
This dish takes minutes to make and works great for breakfast or even a snack. Overnight oats are truly grab and go, and it's guaranteed to keep you full until lunch time. There are many variation of this dish, so get creative and have fun!
https://minimalistbaker.com/peanut-butter-overnight-oats/
Muesli Scones
Muesli is typically in the form of a cereal or oatmeal, but scones are delicious handheld version of this healthy mix of oats, raisins, and seeds.
https://elanaspantry.com/muesli-scones/
Breakfast Cups
Pre-portioned muffin cups of egg or oatmeal are arguably one of the best alternative uses for your muffin pan. The recipes below are a healthier alternative to your typical muffin and are full of fiber and protein.
https://blog.ohsweetday.com/2013/09/mini-frittata.html
https://www.shelikesfood.com/healthy-baked-oatmeal-breakfast-cups-6-ways/
Breakfast Burritos
Instead of stopping by the nearest coffee shop or fast food place, make your breakfast burritos ahead of time. They're incredibly easy to make and taste delicious. I recommend storing the salsa on the side so it keeps better in the fridge or freezer.
https://www.thekitchn.com/how-to-make-freezer-friendly-breakfast-burritos-234556
Breakfast Bars
It may seem silly to make your own breakfast bars when they're many options at the grocery store, but trust me, it's well worth it. You're able to control the amount of sugar and keep them free of preservatives. It's also fun to customize them to your own taste!
https://www.thekitchn.com/weekend-snack-diy-power-bars-144235
Chia Seed Pudding
Do you remember tapioca pudding? Chia seed pudding is a similar and healthier alternative that promises a unique texture. Like overnight oats, the pudding can be prepared very quickly and the flavor options are endless.
https://feelgoodfoodie.net/recipe/3-ingredient-chia-pudding/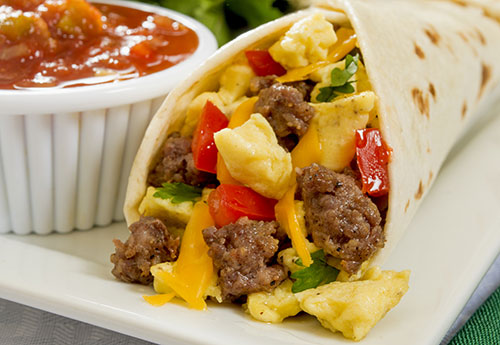 Breakfast Quesadillas
Breakfast quesadillas are not as common as breakfast burritos, but they are easily just as tasty. There is even a recipe for a folded version that will remind you of popular taco chain.
https://www.slenderkitchen.com/recipe/frozen-breakfast-quesadillas#
https://www.thekitchn.com/recipe-the-wrapped-breakfast-quesadilla-227334
Stuffed Breakfast Peppers
It can be tricky to get your serving of vegetables in the morning, but stuffed breakfast bell peppers are a great way to include a variety of vegetables in a simple pepper. Although it takes a little prep time, your breakfast will be set for the rest of the week!
https://paleogrubs.com/stuffed-peppers-recipe