Are you struggling with the idea of adding holiday weight onto your Covid weight? These recipes can't necessarily help you shed pounds, but they can help you make better food choices. Here are a few delicious healthy side dishes that will 'wow' at any holiday function.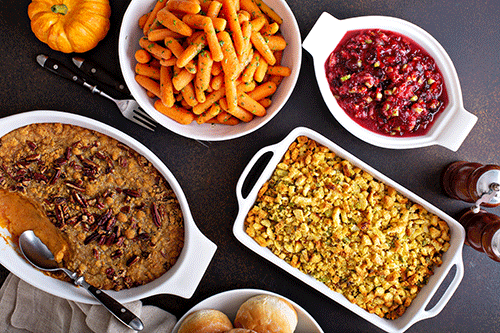 Savory Mashed Sweet Potato
You won't find an easier recipe than this. The natural sweetness of sweet potatoes blends really well with more savory ingredients. Combine your boiled potatoes with some butter, extra virgin olive oil, thyme, milk, salt and pepper. This dish comes together beautifully and can be a great addition to any meal. You'll find the recipe and instructions here.
Baked Mac and Cheese
This is a great example of a dish that ordinarily wouldn't be considered super healthy. However, when you swap ingredients out with better choices, you've got a dish you don't have to feel so guilty about enjoying. For example, this particular recipe calls for canola mayo instead of traditional mayo. It is easy to assemble and will be an absolute hit with your guests. All it takes is four simple steps and you've put together a side dish you can be proud of. You can find the recipe here.
Green Beans with Bacon and Toasted Pecans
Skip the traditional green bean casserole this year and give this dish a try instead. Elizabeth Laseter explains the recipe by writing, "Green beans with bacon is the quintessential side dish—it's crave worthy, comforting, and crowd pleasing. This easy recipe has everything you love about the classic preparation but with significantly less fat and sodium. Shallots and garlic kick up the green beans' flavor, toasted pecans add crunch and fiber, and center-cut bacon lends a salty punch without tons of sat fat. Last but not least, utilizing the rendered bacon grease in the skillet eliminates the need for butter." To see the recipe in its entirety, click here.
Brown and Wild Rice- Pecan Stuffing 
One of the easiest ways to make a dish healthier is to incorporate more vegetables into it. This adaptation of stuffing is a great example. It has onion, celery, and carrots. Additionally, it has other healthy ingredients like pecans and dried cherries mixed with fresh herbs like rosemary and sage. The flavors of this dish come together to create something amazing. Give this recipe a try by clicking here
Tri- Pepper Chorizo Stuffing 
This spicy take on stuffing is a low carb version of a classic side dish. It's full of veggies, pork chorizo, and even has jalapeno in it. In addition to that, it calls for sourdough bread cubes which is arguably the healthiest type of bread. There are only three easy steps to create this exciting and flavorful side dish. If you're in the mood to spice up your holiday meal, you can find the recipe here.
Find dishes that are equal parts healthy and delicious. Make smarter food choices this holiday season by giving these recipes a try.