Your skin is an important investment.  It's what the world sees, and it dictates how you feel, so it's essential to take proper care of it.  When you were younger it probably took care of itself and you didn't have to think about skin health, but now is more important than ever to look after your biggest organ.  Keep it simple and easy by focusing on these main areas for beautiful glowing skin.

Your Arsenal
Get your skin care products in order by selecting the right ones for you.  Skin is unique to the person, so your products and routine should be as well.  Find out what type of skin you have and what your problem areas are.  This will be a great basis for finding the right products.  There is a lot of trial and error, but once you find what both you and your skin like, you are well on your way.  If you go to a beauty or makeup store like Sephora, they will give you testers of anything you want, so you can take them home and try them without buying a whole product line only to find out you hate it.  Personalize your products to you – what kind of smells do you like?  Does the product feel too greasy or drying?  Keep searching until you find what works for you.  Finding the right products is half the battle.
Seek Professional Help
If you have trouble finding the right products on your own, seek out professional help.  You should also see a dermatologist to check on your skin, moles, bumps and everything in between.  Most skin diseases and problems can be treated if they are caught early enough.  Keep an eye on anything that looks abnormal on your body and ask a doctor, do not try to diagnose it yourself or look around on the web.  Taking preventative health actions for your skin is the best approach.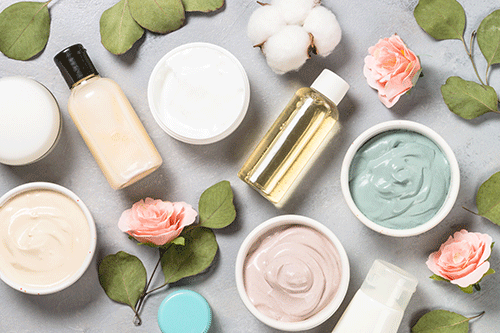 Everyday Maintenance
Most people stop their skin care regimen at their face.  But your skin health encompasses your whole body.  Aside from the products you use to tackle problem areas for your face, you need products to take care of the health of the rest of your body.  Keeping your limbs exfoliated and moisturized is imperative for healthy glowing skin.  This is also a great opportunity to pamper yourself and take care of your health in the same step.  Find body scrubs or exfoliators that you can do while soaking in the tub and you have a spa experience right in your own bathroom.  Your skin health also includes your scalp, so taking care of your hair and scalp is important too.  Aromatherapy could be your best friend with all these amazing products, invite the calm in while checking your health off on your to do list.
Skin Care on the Go
Make yourself a little skin care bag to go to take to work or on trips so you always have your essentials.  Even a small bottle of moisturizer, lip balm and other favorites will keep your day going smoothly.
Skin care is essential for a healthy life, start taking care of your skin now, and it will thank you in the long run.