When you're trying to cut extra calories and carbs from your diet, it's easy to feel like you're missing out on your favorite dishes. Luckily, nature has given us a delightful pasta substitute, a pasta-tute if you will, with spaghetti squash.
Like a fruit and a Veggie
This winter squash is a versatile food that can delight you with its nutty noodle-like flesh. While it's typically cooked like a vegetable, it is botanically considered a fruit. At only 31 calories a raw cup, versus 357 calories for 100 grams of boxed spaghetti noodles, it has replaced pasta entirely at my house.
Nutrition
According to the USDA, one cup of roasted spaghetti squash contains 42 calories, 10 carbs, and 181 micrograms of potassium. This melon shaped gourd packs a punch of nutrients and is the perfect vehicle for delicate sauces that won't overpower the light taste of its flavor.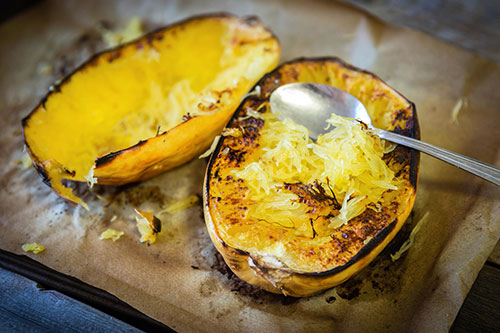 Refining your roasting style
Finding the right cooking and cleaning methods for spaghetti squash can be a bit tricky for a beginner, so here are some tips to getting a delicious side that will actually be the star of your dinner table.
Wash your squash and cut it, lengthwise. If you're having a difficult time getting a knife to penetrate the raw spaghetti squash, try softening the gourd in the microwave for a bit. Just make little cuts in the skin and microwave the whole thing for three minutes. Once you've separated the two halves, scoop out the seeds and pulp like you're prepping a pumpkin for a jack o lantern.
Next, rub the insides with olive oil and plop them cut side down onto a baking sheet and into a 400-degree oven for 45 minutes. Roasting time may vary depending on the size of your gourd. If your squash doesn't squash when you squeeze it, put it back in for another 15 minutes.
Once the halves are done baking, you can turn them over skin side down and fill with cooked ground turkey or beef, and mozzarella, then brown the boat tops in the oven. If squash boats aren't your thing, you can scrape out the little tendrils of angel hair-like flesh and add them to your favorite alfredo sauce or sautéed cherry tomatoes. I like to simply dress mine with a drizzle of olive oil and a sprinkle of freshly grated parmesan cheese. I try to avoid heavier sauces, like marinara, because I find they overwhelm the taste of the spaghetti. Make sure to season your food with salt, garlic, and parsley and you'll be ready to rock that squash!