If you've made the decision to limit your carb intake, but you don't want to miss out on your favorite foods, you have delectable alternatives. Many of these recipes substitute less nutritious foods with vegetables, and you may find that you end up liking them more than their starchy counterparts.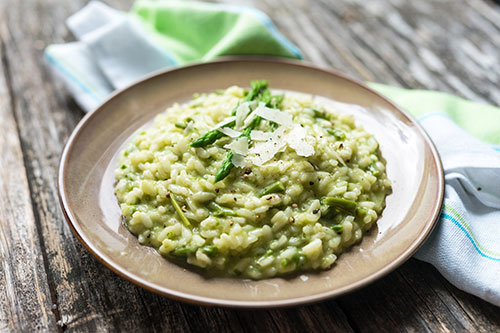 Risotto
This side dish makes any main course feel a little fancy. You don't have to skip it, just because you're skipping the carbs rice brings to the table. Butternut squash's nutty flavor and creamy texture is a fantastic fake out for risotto. This recipe gives step by step directions on how to make your own from scratch, in about the same time as it takes to make risotto from rice. If you're looking for something to put on the table a lot quicker, Alexia makes a version available in the freezer section of many grocery stores.
Mashed Potatoes  
Okay, full disclosure we're not going to be talking about spud recipes in this section, but rather suitable substitutes. Whether you like them, loaded, salty, buttery, and/or creamy, mashed taters are basically just a blank canvas for the delicious flavors all the other ingredients bring to the party. This recipe for parmesan garlic mashed cauliflower calls for you to steam the vegetable and then puree it in a food processor. If you want to skip a step, many grocers sell fresh cauliflower, already riced up and washed in a steam-in bag, like these products from Publix and Kroger. If you want to go to the head of the line and start eating faster, several brands make frozen mashed cauliflower that are table ready in under 7 minutes. Birds Eye offers a sour cream and chive variety, and Green Giant has a cheddar and bacon available.
Alfredo
Pasta sauced-up with some creamy alfredo is always a surefire hit at dinnertime. If you throw a little chicken into the mix, you also have a dish that packs a punch of protein. Unfortunately, the usual main component of the dish, pasta, is full of starchy simple carbs. Good thing we have our gourd and savior, the spaghetti squash as a substitute. When roasted, this winter squash strings up into nutty tendrils that resemble angel hair pasta and has a similar mouth feel. Karly Campbell has directions for making the low carb dish here. If you want to add some chicken, this recipe for chicken alfredo spaghetti squash boats by Makinze Gore might be right for you. If you're in a hurry, you can always buy frozen squash and a jar of alfredo sauce for those nights when you're on the go. Just be sure to check the nutrition info for hidden carbs.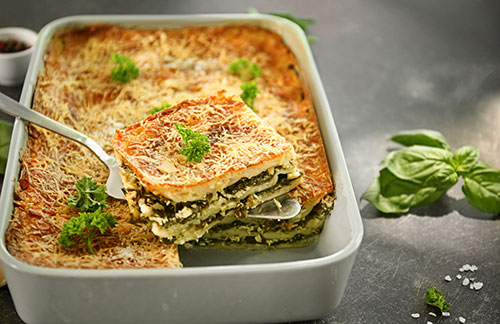 Lasagna
This cheesy delicacy is a favorite in a lot of households, but as noted above, pasta is pretty much off-limits day to day when you're cutting out the starch from your diet. Maya at Wholesome Yum advises, "make sure you choose small-to-medium eggplants that are firm to the touch. Huge ones, or those that are too soft, tend to be more bitter. Choose a marinara sauce you love, because those flavors will definitely shine in this recipe. You could even make your own!" Her recipe uses a traditional ricotta cheese filling and meat sauce. Olivia at Primavera Kitchen includes tips about how to keep your eggplant from getting soggy in her recipe.
Starchy, carb laden foods can be tasty, but they don't always agree with us. If you're taking the plunge and cutting back on them, try substituting veggies in your recipes.