Parenting is hard and it seems like it just gets harder and harder. The good thing is, although parenting is hard, it is also very rewarding. The bad part is the rewards usually come much later than the present-day hard work. Children are dependent and vulnerable. They look up to adults all around them, parents, older siblings, coaches and teachers for love, inspiration, support, and guidance. When a child is introduced to healthy habits at a young age, it becomes part of their lifestyle and personality. Here are a few examples of healthy habits that can be important for children to develop at a young age.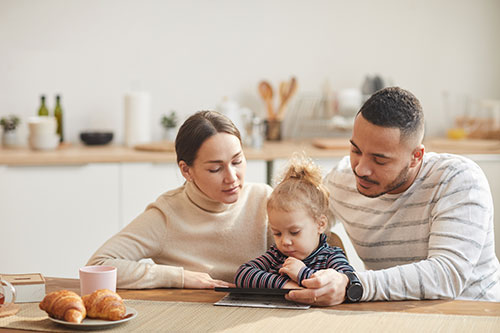 Tips from Modern Day Parents
Go to bed early and shut off your electronic devices.
Enforce good eating habits.
Keep your kids and surroundings as clean as you can.
Encourage self-expression.
Take care of yourself (yes you, the parent(s)).
Provide positive attention.
Don't be afraid to show your love.
Try not to get trapped in "old school" way of thinking.
Have your kids do things for themselves (within reason).
Behave how you want your children to behave.
Apply the Golden Rule.
Use humor for your kids and yourself.
Explain the reasons for rules.
It's okay for your child to be mad at you.
Be consistent with discipline.
Think about your long-term goals for your children and family — what traits do you want to build into them as adults? By knowing where you are heading or trying to head, you are more likely to get there. Use your values to raise kids you love, like, and respect.
Your children will be more likely to listen to you if you have a loving relationship with them. You need to teach them how to behave so they become capable and caring adults. Always keep in mind that there is no "one size fits all" way to parent. Everyone needs to find what works best for him and his child. These tips can help you create a family in which your kids feel supported and loved.
The tips can even be a win-win situation for both the parent and child. Take a look at the tips and now try to apply them to yourself. Many of the rules, such as sticking to good eating habits and applying the Golden Rule are important lessons to remember for yourself as well. If you have more than one child, it can also be beneficial for the older children to help teach the younger children to. Sometimes a person learns even more by teaching than being told what to do. The younger children can also take responsibility to make sure the family is sticking to the guidelines too. Instead of the "rules" feeling dogmatic, try to make them a family effort that fits best with the culture of your family.