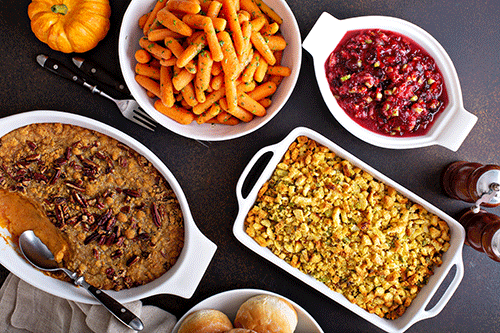 Holiday season means one thing – big family gatherings and even bigger meals that satisfy your appetite. If you're stuck looking for options for what to bring to your next potluck or holiday meal, look no further than these unique and delicious side dishes that will keep the crowds pleased and satisfied. You'll be the star of any holiday meal with these unique takes on classic holiday side dishes.
Maple Walnut Sweet Potato Skins
The name itself sounds delicious and amazing. Who doesn't love a great sweet potato for a holiday meal? This is even better because you've got the yummy taste of maple baked right into it. The best part? You bake candied walnuts right into the top of these loaded skins. This recipe couldn't be easier and you'll keep on coming back for more.
Source: Savory Nothings
Honey Sriracha Roasted Brussel Sprouts
Good, caramelized brussels sprouts are a favorite side dish with any meal. Those crisp little green balls of flavor are not only healthy, but also delicious. Take that amazing flavor and intensify it with the popular taste of honey Sriracha. The sweet and spicy combination will be a crowd favorite and everyone's going to be asking you for the recipe.
Source: The Woks of Life
Nutmeg Rice
Rice is one of those powerhouse side dishes that can fit any bill you need. You can add any sort of flavors and spices and completely change how this go to side dish works. For a fall inspired twist, use this nutmeg rice recipe that utilizes cinnamon, brown sugar, and milk for an amazing combination of tastes bursting with flavor. Get your savory and spicy taste buds popping with this recipe.
Source: Delicious Little Bites
Cranberry Cornbread
Cornbread is a favorite of everyone when it's on the table. That irresistible baked good that can be served with any meal gets a holiday makeover with this recipe. Utilize your go to corn bread recipes and add a cup of cranberries and some orange zest for this new take on a classic favorite. The sweet corn bread flavor mixed with the tart cranberry will drive your guests insane and definitely give them something to talk about.
Source:  Peas and Crayons
Stuffing Muffins
Move over traditional stuffing, there's a new sheriff in town. Who doesn't love everything about stuffing?  Keep that classic winner, but then take it and make it bite-sized! These little delicacies pack a big punch of flavor and best news of all, they are vegan friendly. You can even make them gluten-free as well with a couple of easy modifications. This recipe is definitely one you're going to want to save and it will be a fan favorite for years to come.
Source: The Colorful Kitchen
Switch up your classic holiday meal routine with a couple of these recipes. Your guests will be wowed and left with full happy bellies. What more could you ask from a holiday meal?