Finding healthy snacks for you and your family is a search that never ends. Try new recipes in order to discover your favorites. If you are in need of ideas, check out these healthy snack ideas.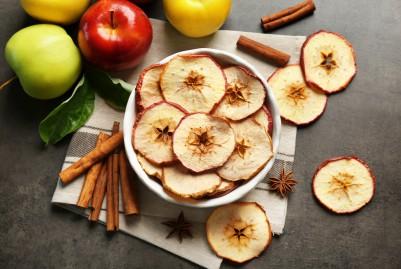 Baked Apple Chips
If you're a chip lover, but hate all the calories that come along with them, give these apple chips a try. This simple recipe requires only 3 ingredients and can be ready in about an hour and a half. You will need a food processor or a mandolin in order to cut the apples into similarly thin pieces. After you have your chips cut, sprinkle them with a cinnamon sugar mixture that will make your taste buds happy. Give this recipe a try! You can find it here.
Banana, Peanut Butter Roll Ups
This is an incredibly easy snack option that you can make in no time. All you'll need is a tortilla (whole grain or white) some peanut butter and at least one banana. Spread peanut butter (or any nut butter) on the tortilla. Then, slice up a banana and place the pieces along the center. If you want, you can add mini chocolate chips, coconut, honey or anything else you can think of. It's a recipe with a lot of potential! You can check it out here.
Roasted Broccoli Artichoke Dip
This dip uses non-fat Greek yogurt for the base which helps make it a much healthier option than many other dips. The recipe gives you simple instructions on how to roast the broccoli. Additionally, it calls for spices like paprika, tarragon, and cumin to give it an exciting taste. At only 25 calories per quarter cup, there really isn't any reason you shouldn't be making this dip. After you prepare this dish, use your favorite veggies to gobble it up. You can find the recipe here.
No Bake Granola Bites
These no bake granola bites are a snack you can easily take on the go. They require seven ingredients and take fifteen short minutes to make. The recipe includes helpful suggestions for putting these bites together as well as substitutions you can make if you are allergic to peanut butter. Take special note of the oats you use as well. Follow the directions and you're sure to have a treat everyone can enjoy. You can find this recipe here.
Avocado Hummus
If guacamole and hummus had a baby, it would be this dip. It requires 10 ingredients and can be made in about 10 minutes. It simply requires you to combine all the ingredients into a food processor to mix them all up. It includes the delicious flavors of cumin and garlic with the option of adding red pepper flakes as a garnish for an added kick. You can look-up this recipe here.
Find recipes you can feel good about feeding those around you. Incorporating nutritious snacks into your diet will help you stay on track with your health and fitness goals.