When you're hosting family or friends, it can be tricky to find a recipe that fits everyone's dietary restrictions. A breakfast casserole is a delicious dish that is guaranteed to help every start the morning on the right foot. It's filled with healthy ingredients and is an easy way to feed more than half a dozen hungry guests.
Prep time: 5 minutes
Cook time: 45 minutes
Total time: 50 minutes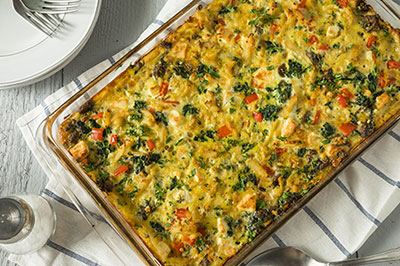 Ingredients
1 lb breakfast sausage
1 cup spinach
¼ cup sun dried tomatoes
½ bell pepper, diced
½ cup broccoli, chopped
½ cup mushroom
6 cloves garlic, minced
12 large eggs
½ heavy cream
2 cups cheddar cheese, divided
2 tbsp fresh parsley, chopped
Salt and pepper to taste
Instructions
Preheat oven to 375 degrees F.
In a greased skillet over medium-high heat, cook minced garlic until fragrant.
Add breakfast sausage to skillet and cook for about 10 minutes until browned.
In another greased skillet over medium-high heat, cook vegetables. Add salt and pepper to taste.
In a large bowl, whisk together eggs, heavy cream, 1 cup of cheese, parsley, salt, and pepper.
In a greased 9×9 casserole dish, evenly spread breakfast sausage and vegetables on the bottom.
Pour the egg mixture over the top.
Evenly spread remaining 1 cup of cheese over everything.
Bake for at least 30 minutes until eggs are set and cheese is melted.