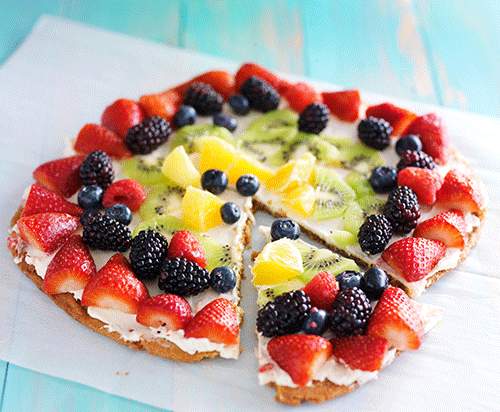 It's time for those summer picnics and backyard BBQ's and what better way to celebrate than with delicious fruit bowls to accompany them.  There are so many ways to mix up fruit and make it a truly unique dish.  Try a few of these recipes at your next summer bash and get a healthy tasty snack all in one.  These just might be the star of your next party.
Strawberry Shortcake Fluff Salad
Who doesn't love strawberries on a hot summer's day?  This refreshing fruit is getting a yummy dessert twist with the following recipe that includes marshmallows, sweetened condensed milk and pieces of angel food cake all mixed up and served into one big, tasty bowl.  It only takes about 15 minutes to make, so what you are waiting for?
Source: Swanky Recipes
Strawberry Cucumber Salad
Strawberries just might be the unofficial fruit of summer.  This recipe only uses four ingredients, so you can't go wrong.  It makes your grocery list a breeze with using only strawberries, cucumbers, honey and white balsamic vinegar.  This flavor combo is out of this world and it's a really healthy option on the table.
Source: The Food Charlatan
Vanilla Fruit Salad
This one is for those who like their own selection of fruits.  You can completely customize this salad with whatever fruits you desire.  It's also great if you are looking for a dish that will color match a theme – just pick the fruits in the same color family and you are ready to go.  The secret to this recipe is the dressing.  A family favorite combination of lemon juice and vanilla pudding mix for sweetness will make your fruits pop with sparkle and taste.  If you are struggling for time, you could even grab a fruit plate or prepared fruit bowl at the store, throw the dressing on and be out the door!
Source: Julie Blanner
Mojito Melon Salad
Get your melon baller ready for this drink inspired fruit salad.  This recipe is inspired by the mojito and uses lime juice and mint to get that signature taste. While the recipe doesn't use any alcohol, you could always experiment and see what it might taste with a little rum for a true mojito flavor!  Bright and colorful, this will be the unexpected star dish at your next BBQ.
Source: Amy Sheree
Snicker Apple Salad
Now we've moved on to the 'it still counts as fruit, right?' portion of the recipes.  While maybe not the healthiest option, this just sounds too good to pass up.  Layers of apples, caramel, Snickers, and whipped cream make up this equally beautiful and yummy dessert.  This recipe also uses vanilla pudding mix in the whipped cream, so this must be a good little secret to try out in your recipes for flavor!
Source: Lil' Luna
This guide has everything from the healthy, to just plain dessert, so you should never run out of ideas for your next summer soiree.  Be the star hostess by mixing it up with some delicious fruit for your next occasion.