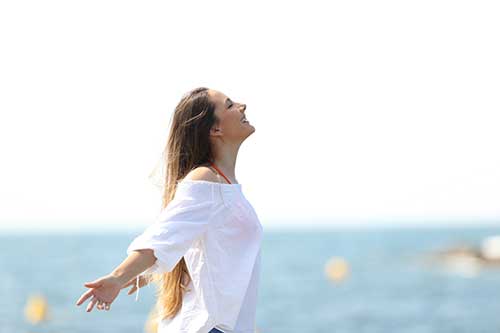 If you're like me, you want to spend time outdoors without worrying about some of the unpleasantness that summer can bring with it. Living clean can make you question the ingredients in hot weather essentials, but there are alternatives to using any questionable products many of us currently have packed in our beach bags.
Sun Block
Sunscreen is important to protect your skin against cancer and the rapid aging that exposure to the sun's rays can cause. Mayo Clinic says to "Look for water-resistant, broad-spectrum coverage with an SPF of at least 30." That's great to look out for, but there are also some things lurking in certain sunscreens that you may want to avoid. Avobenzone and octocrylene are two chemicals that have been linked as hazardous to both humans and ocean life, to the point that Hawaii is working to ban the ingredients. For a clean, quick alternative, consider a mineral sunscreen like Two Peas Organics. If you're into DIYing your own natural products, check out this recipe for homemade mineral sunscreen with aloe vera and coconut oil.
Lotion

Sitting in any pool or body of water long enough will dry out our skin. The good news is that you don't have to save the aloe for sunburns, it's a great product to nourish your skin all summer long. Just make sure you're skipping any products that have alcohol in the ingredients. It may be fun for drinking, but it dries out your skin. Christina Moss Original is body lotion made with lemon grass and organic aloe. "It hydrates skin and leaves it feeling soft and smooth without the worry of harmful preservatives, sulfates, or parabens." If you're looking for a product that is nearly pure Aloe vera, but don't feel like growing your own, Amara offers organic aloe gel that is "99. 75%" cold pressed aloe vera.
Bug Repellent
Let's say you don't want mosquitos swarming you at the BBQ, but you aren't up for wearing a shield of toxins, where do you turn? Certain insects that like to eat you also carry disease, so skipping the bug spray isn't a great option. Badger makes Anti-Bug Shake & Spray that works by harnessing the power of citronella and peppermint oils so the bugs think you're more stinky than snacky. You can also try this recipe for making some bug spray that combines witch hazel with oil of lemon eucalyptus.
You don't have to make compromises to your clean lifestyle just because it's summer. There are plenty of natural products available for you to enjoy the outdoors.