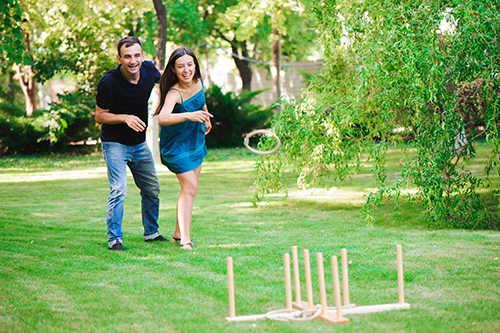 Do you remember what it was like back in the day when you'd play stick ball with the neighbor kids until your porch light came on? Me neither, because I was busy playing Nintendo and eating pizza! My lifestyle choices are starting to catch up with me and I like to mix in some outdoor exercise into my gaming from time to time. Playing with the neighbors doesn't have to stop when you grow up, in fact it can be a great way to stay in shape. Crack open a cold one and check out this list of fun summer backyard games that will have you sweating and laughing with your friends.
Chicken Throwing
Flickin' Chicken is like a cross between darts and cornhole, with the hilarity of rubber chickens thrown into the mix. This game has competitors chucking poultry at a disc target and keeping score on a note pad. Let's go chicken tossing!
Darts
Remember when lawn darts went off the market because it turned out that throwing weighted metal spikes around at a backyard BBQ could pose a threat to living creatures? Well, lawn darts are back and have been reworked to omit the stabbier aspects of the game. This version by ToyerZ has a dual sided mat that lets you change targets based on your skill level. Giggle and Go Flarts uses inflatable darts.
Slip N Slide
Sometimes it's hot and you just need to cool off by powering your body along a wet PVC lined slide out in your back yard. On those occasions, harken back to your youth by acquiring a pad big enough to accommodate your adult body. You'll be the envy of your neighbors. Wow World of Watersports offers a 25 x 6 Feet Giant Backyard Waterslide with Sprinkler, the description explains you can use their "Customized connection system to connect as many slides together as you want, make your own 100-foot slide." TEAM MAGNUS 31ft Water Slide features a large crash pad at the end so you can have races on its twin lanes without getting hurt and sliding off into the grass.
Other Toss Games
If you enjoy the concept of cornhole, but genuinely wonder who decided to give it that name, perhaps try one of the various other outdoor tossing contests. For instance, if you're into things with wordy titles, try GoSports Kubb Viking Clash Toss Game. The description explains, "Kubb rules are included and easy to learn – simply choose your side and toss batons to knock down your rival's army of kubbs first and the king to win." My favorite backyard throw game is paddle toss and catch. It's simple and gets the blood pumping. Horseshoes has been around for thousands of years, but when was the last time you played it? There's no time like the present to pick up the fun game with the easy name.
Just because it's summer doesn't mean you have to stay inside in the AC or out on your porch fanning yourself. Engage in some physical activity and nostalgia with your friends and you may even get fit doing it.