This one pot stir fry is a delicious dish that's not only keto friendly, but also gluten, soy, and paleo friendly! It's packed with wonderful flavors and is a healthier option to your typical takeout meal.
Prep time: 5 minutes
Cook time: 15 minutes
Total time: 20 minutes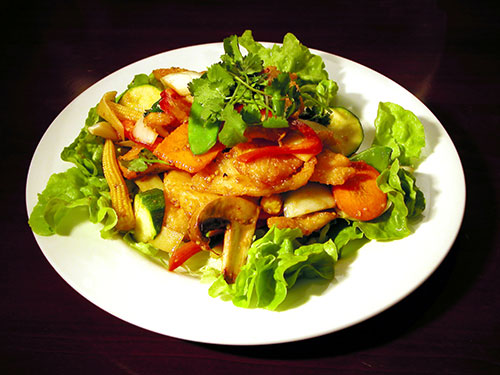 Ingredients
2 skinless chicken breasts, diced into 1" cubes
Salt and pepper to taste
2 tbsp avocado oil
1 white onion, diced
3 garlic cloves, diced
1 bell pepper, diced
1 zucchini, diced
½ lemon
3 tbsp coconut aminos
1 tsp sesame oil
Instructions
Generously season diced chicken with salt and pepper
Heat avocado oil on medium high heat in a large, nonstick pan or wok
Add chicken to pan and cook for 2-3 minutes until lightly browned, stir occasionally
Stir in onion and garlic and cook for another 2-3 minutes
When onion and garlic are fragrant and lightly browned, add bell pepper and zucchini and cook for about 5 minutes until chicken and vegetables are golden brown
Add coconut aminos, lemon juice, and sesame oil to pan and evenly toss until sauce has thickened
Remove from heat, serve immediately, and enjoy!