With summer fast approaching, this means spending more time in or around water for many. Swimming, fishing, boating, and other water activities are a great way to spend your time, but they require extra precautions. Here are a few reminders about how to stay safe.
Supervise Children
If you're looking to do an activity with your kids that will keep them busy while you take a break, swimming is NOT that activity. An article written for gwrymca.org elaborates by saying, "We understand that parents need to relax too. But when your children are in the water, it's time to be alert. As a general rule of thumb, a parent should be within arm's reach of a young child at all times. This rule is true whether they're swimming in a pool, lake, ocean or bathtub. Parents of older children should stay close and keep eyes on their children at all times. Even ones who are strong swimmers need supervision because they're prone to trying tricks, flips and dives — all things that can be dangerous in the water."
Life Jackets
You may not think you need a life jacket if you're a strong swimmer; however, there are many scenarios where life jackets need to be worn by all. Anytime you're on a boat, raft or inner tube you should wear one. Additionally, anytime you are swimming in open water (lake, river, or ocean) you should wear one. Put life jackets on young children for all water activities. It's always better to ere on the side of caution.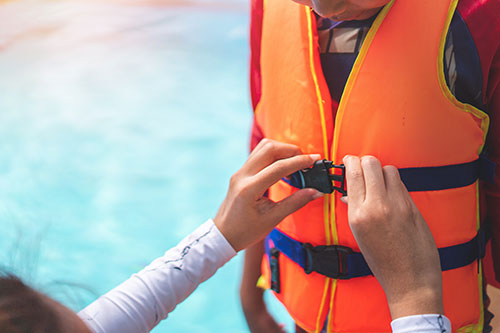 Up to Date Skills
Taking time to make sure your children are up to date on their swimming skills is extremely important. Before you set off on your summer adventures, it might be a good idea to help your kids become comfortable again in the water. Let them brush  up on their abilities by creating fun games or competitions. Make sure you are equally as confident in their skills as they are. This will help ensure peace of mind.
Emergency Preparedness
Learning what to do in an emergency situation is another crucial aspect of water safety. An article written for seattlechildrens.org explains things you can learn in order to bolster your preparedness. They say, "Learn first aid and CPR, bring a cell phone with you or know where to find the nearest phone, and dial 911 in an emergency. Additionally, learn safe ways of rescuing others without putting yourself in danger, like "reach and throw." Reach out to someone in trouble in the water while holding on to something stable. If you can't reach them, throw them something that floats." Having a plan in case of an emergency is yet another way to establish peace of mind while in the water.
Water safety is incredibly important. It's something you should reiterate with friends and family anytime you're venturing out on an aquatic adventure. Make it a priority so you can thoroughly and safely enjoy yourself this summer.